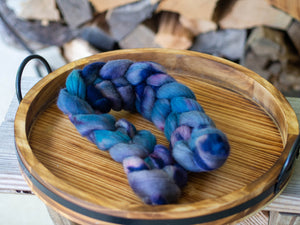 Corriedale Cross Wool Roving
4 ounce braid
Staple length 90 mm.
29.5 micron (for quick felting)
Corriedale wool is a favorite around the world for its softness and strength. It is great for needle felting, wet felting, and spinning. We work with the best mills in the world to source the highest quality, and cleanest wool tops possible. The Corriedale sheep is a cross between the Merino and Lincoln breeds. This special cross produces a thick, strong wool fiber that is also very soft.